---
What is UI Design?
The "UI" in UI design stands for "user interface." The user interface is the graphical layout of an application. It consists of the buttons users click on, the text they read, the images, sliders, text entry fields, and all the rest of the items the user interacts with. This includes screen layout, transitions, interface animations and every single micro-interaction. Any sort of visual element, interaction, or animation must all be designed.UI Design Examples for InspirationUI & UX Design Inspirationuxplanet.org
This job falls to UI designers. They decide what the application is going to look like. They have to choose color schemes and button shapes — the width of lines and the fonts used for text. UI designers create the look and feel of an application's user interface.
UI designers are graphic designers. They're concerned with aesthetics. It's up to them to make sure the application's interface is attractive, visually-stimulating and themed appropriately to match the purpose and/or personality of the app. And they need to make sure every single visual element feels united, both aesthetically, and in purpose.
What is UX Design?
"UX" stands for "user experience." A user's experience of the app is determined by how they interact with it. Is the experience smooth and intuitive or clunky and confusing? Does navigating the app feel logical or does it feel arbitrary? Does interacting with the app give people the sense that they're efficiently accomplishing the tasks they set out to achieve or does it feel like a struggle? User experience is determined by how easy or difficult it is to interact with the user interface elements that the UI designers have created.
So UX designers are also concerned with an application's user interface, and this is why people get confused about the difference between the two. But whereas UI designers are tasked with deciding how the user interface will look, UX designers are in charge of determining how the user interface operates.
They determine the structure of the interface and the functionality. How it's organized and how all the parts relate to one another. In short, they design how the interface works. If it works well and feels seamless, the user will have a good experience. But if navigation is complicated or unintuitive, then a lousy user experience is likely. UX designers work to avoid the second scenario.
Designing in a vacuum leads to less than ideal results.
There's also a certain amount of iterative analysis involved in UX design. UX designers will create wireframe rendering of their interface interactions and get user feedback. They'll integrate this into their designs. It's important for UX designers to have a holistic understanding of how users prefer to interact with their applications.
How They Work Together
So a UX designer decides how the user interface works while the UI designer decides how the user interface looks. This is a very collaborative process, and the two design teams tend to work closely together. As the UX team is working out the flow of the app, how all of the buttons navigate you through your tasks, and how the interface efficiently serves up the information user's need, the UI team is working on how all of these interface elements will appear on screen.
Let's say at some point in the design process it's decided that extra buttons need to be added to a given screen. This will change how the buttons will need to be organized and could require changing their shape or size. The UX team would determine the best way to lay out the buttons while the UI teams adapt their designs to fit the new layout. Constant communication and collaboration between UI and UX designers help to assure that the final user interface looks as good as it can, while also operating efficiently and intuitively.
What Does a UX/UI Designer Do?
Work your design skills to chart your path in this growing field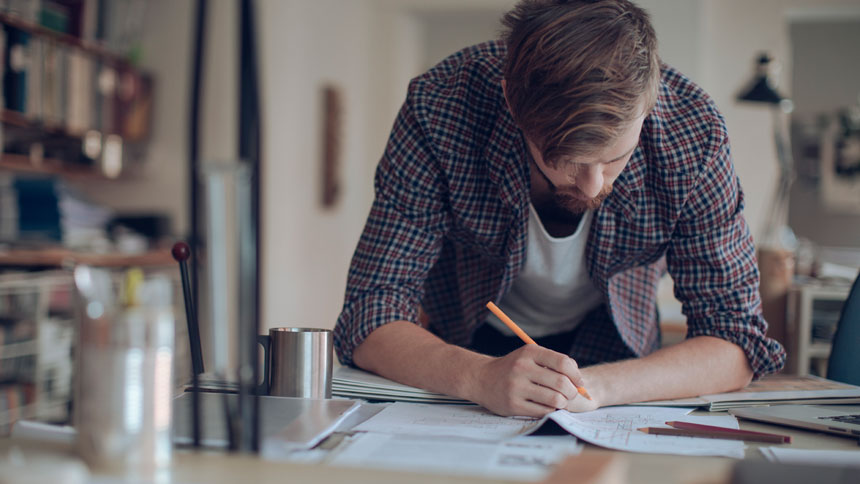 If you've got a design background, an interest in digital products and a desire to work in tech, then becoming a UX or UI designer may be the job for you. But you're not totally clear: What do UX/UI designer jobs require, and how do you become one?
You've come to the right place. We talked to a few industry experts and got the 411. Check out what they had to say.
Also on Mediabistro
What exactly does a UX/UI designer do?
First things first: UX and UI design are two different elements of a single consumer experience. UX refers to the user experience, which focuses on how something works and how people interact with it. UI, or user interface, focuses on the look and layout.
Think of UX as the way a car drives, shifts gears or protects you in an accident and UI as the color and design of that car, says Matthew Cogswell, senior art director and UX/UI designer at modop, a digital advertising and marketing agency in Los Angeles.
A UX designer ensures a product makes sense to the user by creating a path that logically flows from one step to the next. A UI designer ensures each page visually communicates that path.
As a UX architect/UI designer at iCiDIGITAL in Chicago, Devin Harold does both. Harold spends some days fully wireframing a system, he says, and others bringing it to life with an appealing color palette, a sense of depth and a bit of interaction.
Designers also research targeted users to develop a clear understanding of their needs, define interaction models, design wireframes, build prototypes and work on brand color. And they conduct user testing and review metrics and focus-group reactions so they're able to make the necessary tweaks to enhance the product.
What skills do you need?
"A UX designer needs to know how to execute, facilitate and analyze research and data, [and] UI designers need to know composition and graphic design and have a knack for palettes, typography and branding in order to make an interface shine and have its own identity," says Harold.
The ability to solve problems as well as empathize with the user to understand what he needs is also important. "A mediocre UX designer will think about how the user acts," says Cogswell. "An adequate UX designer will focus on how the user thinks. But a truly great UX designer will focus on how the user feels."
Communication and collaboration skills are also paramount, says Eric Guess, a UX designer with iCiDIGITAL in Raleigh, North Carolina. You have to be able to tell a story or paint a picture that helps stakeholders understand the work being done. Designers should be well versed in information architecture and able to organize the information so it's easy to understand.
Who is a UX/UI designer's boss?
An art director or creative director typically functions as supervisor, though this can vary from agency to agency.
Are there other titles with similar responsibilities?
The UX/UI title is ambiguous. A UX/UI designer with Agency A may have the same duties as a web developer at Agency B. Other agencies use titles such as web designer (UI), experience designer (UX) and interaction designer (IxD).
What do I need to get ahead in this position?
Never stop learning, advises Guess. Constantly striving to improve and broaden your skills is a surefire way to shine.
How can I get my foot in the door?
Some designers get a fine arts degree, but it's not all about that piece of paper. Build a portfolio that shows your work process from beginning to end, especially finished comps. And be persistent—don't take no for an answer.

Easy-to-digest primer on the difference between User Interface (UI) vs User Experience (UX) design
UI design and UX design are two of the most often confused and conflated terms in web and app design. And understandably so. They're usually placed together in a single term, UI/UX design, and viewed from the surface they seem to be describing the same thing. It's often hard to find solid descriptions of the two that don't descend too far into jargon. But fear not!
What follows is an easy-to-digest primer on these terms.
By the end of this article, you'll have a good understanding of what differentiates them and how they relate to each other. So let's dive in!
Research is Key
Research is vital for both UI and UX designers. It's important for both disciplines to gather as much good information as possible to assist them in crafting appropriate designs, and both follow a similar approach.
Both will research what users want. What they expect from applications of the sort being developed. This research is often iterative, involving usability sessions, where real users will interact with scaled versions of certain functionality or visual designs being tested to determine whether the designers are moving down the proper path. Feedback is integrated with each iteration.
This process involves generating low fidelity prototypes, like wireframe renderings of interface elements in order to gauge a user's response strictly to the functionality being tested. This can also involve fast visual prototypes and A/B tests of different possible versions of the look and feel of the interface to determine which one users prefer.
In all cases research helps guide the steps designers take as they build their contributions. However, the information UI and UX designers are looking for is very different.
Research in UI Designs
UI designers need to make sure the visual language they choose fits the class of application they're writing. They're trying to predict user expectations. If your team is designing a travel app, it's important to research how other travel apps have been developed in the past. Which ones worked? Which ones didn't? There are design lessons to be learned from the work others have done before.
Research might indicate that people prefer outlined icons instead of bold shapes. This is a visual shorthand that people are comfortable with and enjoy. UI designers would then do well to incorporate that lesson.
The exact aesthetic they choose is up to them, but the basic "rules," or the need to conform to user expectations, is something designers ignore at their own risk.
Not to say risks shouldn't be taken. UI designers want their interface designs to stand out and be memorable. But this must be balanced against making sure people recognize the purpose of the elements you're placing on screen.
Research for UX Design
UX design is particularly interested in user expectations. All of the experiences and interactions that users have had with every application they've used in their lives have helped set their expectations for how interfaces are supposed to work. If a UX designer isn't intimately familiar with these expectations, they could inadvertently design an interface interaction that seems logical to them but breaks commonly accepted conventions. Users don't like when an interface behaves very differently than they were expecting, and this could negatively impact their experience.
If a UX designer decides to do something different, they need to have a very good reason, because breaking a deeply trained expected behavior will likely cause people to do the wrong thing frequently.
As an example, most people are comfortable with the idea that you click twice on a file to open it and once to select it. This is an interface behavior that has existed almost as long as there have been graphical user interfaces.
---
UI vs. UX: Two Very Different Disciplines that Work in Harmony
UI design and UX design involve very different skill sets, but they are integral to each other's success. A beautiful design can't save an interface that's clunky and confusing to navigate, and a brilliant, perfectly-appropriate user experience can be sunk by bad visual interface design that makes using the app unpleasant. Both UI and UX designs need to be flawlessly executed and perfectly aligned with pre-existing user expectations to create an excellent user interface/experience. And when those stars align the results can be astounding.
9 steps how to become a UX / UI designer, if you do not have a work experience and a degree.
Lately, quite often many people asked me the same questions:
What advice can I give to someone who wants to take the same route, like me, and what do I recommend to watch, read, listen and learn?
Did I take any course and if so, how did they help me?
What skills are required in companies like Wargaming, etc.
What role did the portfolio play? What type of work dominated in it?
Where to find a job (if there is no degree or work experience)?
So I decided to devote a whole post to this subject, and to describe how I started working as a designer and how, after going all this way, I advise others to start their career in the design field.
How did I start?
I worked with such companies as Montblanc, Dunhill, Saks Fifth Avenue and many others as a graphic designer. I have about 10 years of experience in the design field. After 7 years of work as a graphic designer, I decided to switch to web design; I'm just talking about the web, because at that time there were no such divisions as UX, UI and others. (The reason for this change was the interest in a new design direction, greater freedom of ideas expression and no matter how typical it sounds the greater demand on the market and greater long term opportunities).
I just want to let you know right away that just like many of you now, who are reading this article, I had no experience in web and mobile design. The only advantage I had was that I more or less knew the photoshop. I did not have the appropriate portfolio and experience. But after some preparation time, I still found the first job, then another, then the next one, until I got noticed by Wargaming and was invited to take a position of Senior Visual Designer.
---
And further you can read how I did all this, step by step, and what algorithm of action I would follow if I were you:
1. Understand all the design directions
First of all the most important thing for you now is understanding of what exactly you want to do. Many people write to me: "I want to draw illustrations" and the person himself does not know what kind of illustrations? Cartoons or icons or animations? You have to choose for yourself what do you want. No one will do it better than you.
Do you like working on the visual part of design? — If the answer is yes, then you should become a visual designer (UI).
Do you like thinking through the concept of how the product works with the user, make the interface convenient, analyze, test? — then you should become a user experience designer (UX).
Do you like both the first one and the second, plus you like to deeply understand the product, be in charge of the product, know and improve it? — then you should become a product designer.
Like magazines, posters, flyers and other POS-materials, like working with company's identity — then you should be a graphic designer.
and so on … Some people know a little bit about every design field. Start by finding out which specialization interests you the most. There are a lot of directions (!) Look for something that you will enjoy and can devote a lot of your time!
2. Study the tools for work
I think that further explanation is not necessary. How can you succeed if you have not mastered the program you need yet? You are lucky if you are a beginner, then you will not have to switch from Adobe Photoshop and Illustrator, you can go directly to Sketch or Figma. Read about their differences and think about what you need to learn. A tip from me, if you have already chosen the design direction you want to follow, do not be lazy check out Headhunter, Linkedin or any other work finding platform and see what employers are looking for, what programs you should know and go from there.
Below you can find a list of the latest programs that can be useful to know:
Sketch for interface design
Figma for interface design with collaboration capability
Balsamiq for creating layouts
Adobe XD for interface design, prototyping
Invision Appfor prototyping and collaboration
RedPen for collaboration
3. Start paying attention to design
Before becoming a web designer, I completely ignored the structure and the content of sites and mobile applications, I did not see the colors and fonts used, I did not notice the components. If you decide to become an interface designer, start paying attention to everything and ask yourself the following questions: why did they put the logo here, and not there? And why a certain button is at the end, and not in the beginning? Learn what the site usually consists of? (I'm talking about simple things such as header, body and footer). Asking yourself questions and answering them, scrolling through the options in your head, you will start not only using the website, but evaluating it from a professional point of view.
4. Surround yourself with design
My advice to you is to dive completely into design, start looking at other people's work every day. There are millions of resources, below are the ones I use:
Behance portfolio platform
Dribbble portfolio platform
Awwwards platform-awarded the title of the best in web design
This practice of viewing other people's works and portfolios will help you enter the design track, see what others are doing (also in good projects there are job descriptions and decision making descriptions), you will become aware of fashion trends, and will get some inspiration.
5. Watch and Copy Others
I am often being asked how to start working as web designer, if you do not have a work experience and a degree. Start stupidly repeating and copying other people's work, the sites that you liked. Just sit down, choose a site and copy the entire website. I do not advise you to use someone else's work in your portfolio, no! I give you this advice so you can get some experience and at least start the process somehow! Look at it as a lesson. I took an art history class in my art school, where we studied different art directions and different artists, and even had classes on copying paintings and styles, because without trying someone else's, you will not find your own.
6. Find mentors and become mentors
The professionals have very little free time, especially for beginners. Therefore, I do not advise you to find yourself a victim and bother that person to teach you design. I honestly have never met a person, who is just ready to help you to build your career. It takes a lot of time, effort and nerves. I'm talking about mentors, those designers who share their experiences in blogs, in vlogs, in social networks. Subscribe to the top designers you like, watch what they read, what conferences they go to, what new programs they study, so without much effort you will be aware of all the popular design events and novelties.
If you are a beginner, you can still become a mentor yourself. For example, you can start writing your own blog about your first steps in the design industry. Or you can talk to your friend about interesting things you learned or found. Repeating and talking to someone about your newly acquired knowledge will help you to deeper understand the subject and remember the material better.
7. Take course
Many people ask the question if the courses are really necessary. Everyone is different, some people are more interested in and more comfortable with digging into the new profession at home, watching YouTube videos, reading books and articles. Others need a design environment and atmosphere. If you are the second type, plus you have some financial freedom and time to pass the courses, then I will say yes! Take the course! — they will help. Just make sure you make the right choice, view the comments and reviews, and see how popular the school is. Below is the list of schools that I heard about recently (I did not take these course myself):
General Assemblyboth on campus and online
Coursera online
Lynda online
Udemy online
Another list of course can be found here ????
8. Read
I am not going to talk about millions of books and articles, that you need to read to become a designer, because the Internet is full of information on this topic, you just have to take a look.
I am just going to give you an example of a couple of books that inspired me and hopefully they will help you to speed up the process:
I recommend this book to everyone who loves self-development. The book very clearly describes the methods of self-discipline, the determination of goals, the ways and motivations, how not to get distracted and stubbornly go towards the goal, and thus towards success. For me, there was a little too much repetition, when the author rewrites and fixes his thought with all the conclusions at the end of each chapter, but it is possible that for someone else this writing style will help to remember useful information. As for me, I took a lot from this book, for example how to define my goals more accurately, get down to the action plan faster and most importantly start acting, no matter what! Very motivating book, easy to read, great author!
This book will give you much more for a successful career in the design field than proper design education or an impressive portfolio. You will get acquainted with the realities of the design business, existing practices and unwritten rules of doing business, which most designers, photographers and representatives of other creative professions learn only by diving into the real work. The author of the book, Michael Janda, the owner of his own design studio in a refined humorous manner shares hundreds of tips he learned during his 10 years in the design business.
You do not need to be a genius, just be yourself! This book was born from Austin Cleon's lecture in New York University. He gave his students ten tips that he would want to receive himself when he was starting his career.
There is nothing original in the world, so do not reject someone else's influence, collect ideas think these ideas through again and again, overwrite them in a new manner in search of your own creative way. Follow your interests wherever they take you, and give freedom to your creative self!
In his bestseller "Steal Like an Artist" Austin Cleon showed readers how to develop creativity with the help of "stealing" ideas. In this even more important book, he shows how to take the next key step — to become famous. Use your network of acquaintances, involve others in the creative process and let them steal your ideas. Full of illustrations, articles, quotes and examples, this book contains 10 rules ("You do not have to be a genius", "Share something small every day") that will help you become bold, productive, open and famous.
---
If it is still hard to begin to get involved in a new professional sphere then you can subscribe to publications in a medium, here is my list:
InVision The world's leading prototyping, collaboration & workflow platform.muzli The best design inspiration — expertly curated, exactly to your taste.
prototypr.io Daily design news and inspiration from all over the web. Everything you need to supercharge your design skills.
uxdesign.cc Curated stories on user experience, usability, and product design.
Planet UX UX Planet is a one-stop resource for everything related to user experience.
Google Design Google Design is a cooperative effort led by a group of designers, writers, and developers at Google to support and further design and technology.
Facebook Design Stories from designers at Facebook offices across the world.
Sidebarsubscription.This is a resource that will send you a daily email with 5 the most useful popular design articles (these articles are selected by the team inside the project) and this will serve as some kind of ping not to stop.
Muzlibrowser extension. After installing the Muzli browser extension, your newly opened browser window will always have a list of all sorts of things from the design articles and news, to just the design inspirations. Try it, you will like it!
9. Create your portfolio and a resume.
The last and the MOST IMPORTANT step when you are looking for a job. Many people ask: "Do I need to have a portfolio? Do the employers even look at it? ". Come on, you guys. Of course they look and of course you NEED the portfolio. Some vacancies even have the note that candidates without a portfolio will not be considered. Portfolio is your business card; by looking at it the employer will decide whether to start the interview process with you or to choose another candidate.
The good news is that there is no need to have your own website (of course, if you have the time and opportunity to create your own site, then you are more than welcome), but my guess is that this article is read by the beginners, and I assume that neither time nor skills, or simply enough amount of work to fill the site you do not have. Therefore, we go to the following online platforms, register and submit our projects over here:
Behance portfolio platform
Dribbble portfolio platform
---
FAQ:
"What kind of work should I have in my portfolio?" And how many projects should I include?" – You do not need to include all the works that you had done during your short career, seriously, carefully review your projects and choose the best and the newest ones. Include 5–6 of your best projects. Check the portfolio of the popular designers, they have worked on many projects, but at the same time the only have the best ones in their portfolio. Why is that? Because the recruiters simply do not have time to go through all of your work and if you included15 projects, the recruiter might choose not the best one and review it. Simplify his life, and increase your chance to get invited to a cherished interview.
"What kind of work should I include in my portfolio?" Vector or bitmap images? Websites or mobile apps?" — This is how you can answer this question yourself. Open any job searching website, and check out the jobs that you like and the companies where you would like to work. Now, see who are they looking for? If this is a UX designer, then in your portfolio the employees will expect to see user cases and explanations for the task, the problem that you want to solve with your design, your work process and so on. If they are looking for a mobile application designer, then you need to show mobile applications. If you want to become for example a watch designer or UI interface designer in Mercedes-Benz, then be ready to show a watch or prototype of something similar to the interface of the car control panel.
"Where can I get projects to show, if I haven't worked anywhere?" — You can find a lot of tips on this subject on the Internet, below are the ones that came in handy for me:
1. Make up your own fictional project. (Imagine that you were hired by Nike for example and you need to make a website for their new collection of sneakers.) Present everything the way you feel will be the best, make a project and include it in your portfolio.
2. Improve some popular service or platform, and define why have you decided to make such improvements and what exactly have you changed.
3. Work for free for your friends and acquaintances. That way you can get your hands on and start working in the field on real projects, as a bonus adding projects to your portfolio.
I'll tell you right away, creating a portfolio is a very hard work, but it's totally worth it. Here is an example, from my experience: initially I worked for free, but made a weak portfolio. Then I got a job in a local web studio where I did 3–4 sites a day, yes, they were all nothing and pretty ugly, but I got some experience, chose the most successful work for my portfolio and was invited to work at a better elite web studio, etc.
---
As far as a resume I just want to give a few little life hacks:
If you search for the "Designer" resume samples on the Internet you will find a bunch of "creatively" designed resumes with infographics, diagrams, illustrations, etc. I believe that only a few people will read such a resume. I even looked up the employers ratings on who reads such resumes-almost now one does. Therefore, I strongly recommend writing a standard resume and leave the creativity for something else (you can beautifully design the fonts, or add colors but without fanaticism and divide the resume into logical sections). There is a service called Canva. I used it myself. It has a lot of very good resume templates and more.
In order to properly describe your skills, take phrases and expressions from existing vacancies. That way you can show your design vocabulary, plus you will understand what skills you are lacking and what you need to pump up.
---
Dare! Do not stand still — move towards your goal! Only those who do not do anything do not make mistakes. Good luck in your new profession!
---